Support Your Child's Eye Health with Proactive Vision Care
Our focus is complete health, as eye health often provides valuable insights into overall wellness. That's why it's never too early to start prioritizing your child's vision care.
Nurturing visual development from an early age plays a crucial role in supporting various aspects of their life. Visual skills can profoundly impact a child's learning process and their interaction with their environment, aiding the development of social, intellectual, and motor skills.
Our goal is to educate children about their eyes while making eye care an enjoyable experience. We encourage patients to schedule a family appointment, so we can focus on supporting you and your child together.
Request Appointment
When Do Children Need Eye Exams?
Kids are more than welcome here! We'd love to see them often as we strive to support their visual development and promote lifelong healthy vision.
The American Optometric Association recommends that children have:
Their first eye exam between 6–12 months
At least 1 eye exam between the ages of 3–5
Annual eye exams between ages 6–17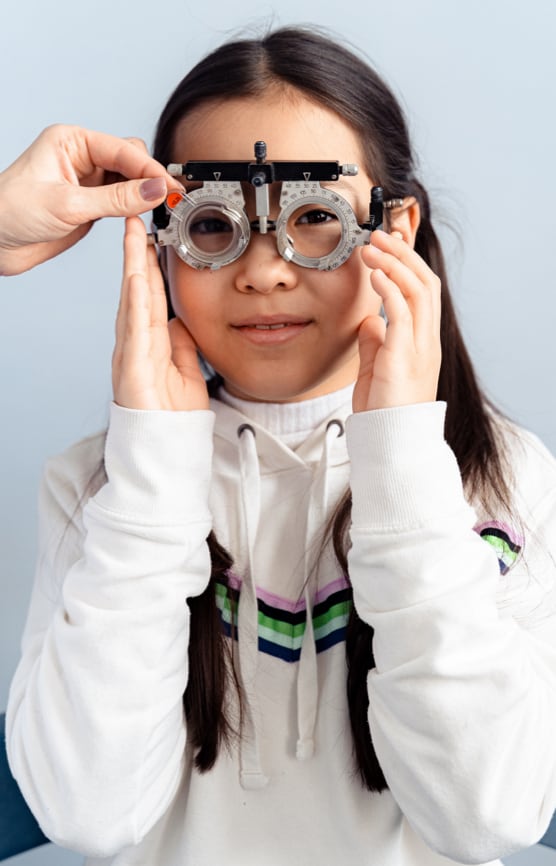 Helping Kids Feel Comfortable
Sitting still for an eye exam can be challenging for kids, but we know how to help them stay engaged. By scheduling family appointments, we can make eye care convenient for you and your child, eliminating the need for separate visits. Not only can you show your kid how easy completing eye tests can be, but we can also tailor proactive eye health tips to benefit the whole family.
We're committed to educating patients of all ages and investing time to enhance your understanding of eye health. And if your little one needs a break, they can unwind in our awesome kid's area or enjoy some cartoons on our digital screen.
Setting Your Child Up for Success with Healthy Vision
Many children struggle to communicate when they experience vision issues. Often, they're unaware of vision problems because they haven't established what normal vision should look like. Sometimes, the signs of vision problems in kids may not be obvious. They might exhibit tiredness, poor concentration, or difficulty maintaining their place while reading.
Undiagnosed vision problems can affect a child's learning abilities and perception of the world around them. This can lead to several challenges, including:
Learning at a slower pace
Behavioral issues
Short attention span
With regular eye exams, we can detect and address these problems promptly, so your child can get the support they need to navigate academic and daily activities.
Keep Life in Focus with Regular Eye Exams
Regular eye exams are crucial for keeping your child's vision healthy, whether or not they wear glasses.
At Lee's Summit Family Eyecare and Blue Springs Family Eyecare, we provide comprehensive examinations to support your child's lifelong eye health and overall well-being. When needed, we offer personalized attention to address vision issues that could affect their long-term eye health, like myopia management. Our goal is to help your child keep their life in focus.
Schedule your child's eye exam with us today.
Request Appointment